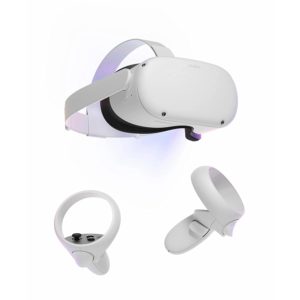 Virtual reality has been something I'd wanted to get into for several years and a few months back we purchased an Oculus/Meta quest 2 (we've since purchased a second one). It definitely delivers and lives up to the hype it's garnered, in educational applications, creative applications, experiences, and gaming. My whole family, me, my wife, and all four of our kids use the quest, which is why we had to buy a second one lol
You can take a full walkthrough tour of the Anne Frank house complete with narration, take a spacewalk on the ISS, go to a concert with hundreds/thousands of other people, learn CPR, watch sports, TV, and movies on a huge cinema-sized screen, visit museums, learn as you walk through history. There are countless opportunities to have genuinely immersive experiences and have a great time doing so. There are apps to help you get and stay in shape, apps for productivity, apps to hold entire business meetings, apps to meet people, and apps galore to do just about everything you'd do in reality.
Oh yeah… and the games both PCVR and on the quest 2 are amazing and immersive beyond any other experience. There is everything from games for the kids, virtual pets, music-based games, and adult games like shooters, fighting games, and sword fighting fantasy titles.
You can also unleash your creativity, imagine having a full pioneer high-end DJ setup… a music studio… A full array of spray paints, caps, stencils, walls, trains, and more… a full art study… a pottery studio… all on a headset… that and more is available on the quest 2. Creativity in VR is absolutely incredible and the realism is spot on near perfect. If you can paint in real life (which I do), you can paint in the app… or learn to and the same can be said about everything else I'd mentioned.
…and the best part is that it's all wireless!!!
It's also VERY inclusive, you can have an avatar that is truly you… Mine wears a Kippah, has hearing aids, wears glasses, has my body size, and even dresses similarly to me. You can create an avatar as unique as you are and then go interact with others who've done the same!
So, why am I writing all of this? No, I'm not getting paid for this lol, but VR has revolutionized our life, I now paint in VR (Vermillion VR), no need to buy more brushes or canvas and I can take the images I paint and have them made into prints of all stripes. I workout on VR, thrill of the fight boxing is an incredible workout that is fun, engaging, and gets you to sweat hard after just a minute or two into it. I game in VR mostly, in multiple genres (Literally every game has been fun), even tabletop gaming similar to D&D, chess, checkers, and more.
VR has been one of the first pieces of Tech I'd gotten that changed my life this much since the laptop and cell phone!!!